What happens when a demon dies?
Oozing, scalding, deathblood floods the land, cursing it forevermore. Every seventeen years, the blood moon rises and the Fog Beast beckons villagers into the Shrouded Fen; those that follow never return. Now you have been chosen! Seeking ancient ruins, vast treasure, and arcane lore, you plunge deep into the mist-laden swamp. Plants impale corpses ravaged by man-eating birds, while specters of past victims roam the blood-cursed land. A mysterious floating portal defies entry, though the bog's hidden artifacts are rumored to provide the key. Can you solve the riddles of the swamp and escape from the Shrouded Fen?
A 112 page digest-sized DCC adventure from Terry Olson that contains:
A 0-level funnel...
...Leading into a deadly 1st-level sandbox sandbox adventure
Incredible artwork from Benjamin Marra, and maps from Dyson Logos!
A host of random encounters and events to keep things interesting!
Notes to run the funnel and first level sections as stand-alone adventures
An additional 61 page letter-sized PDF appendix featuring: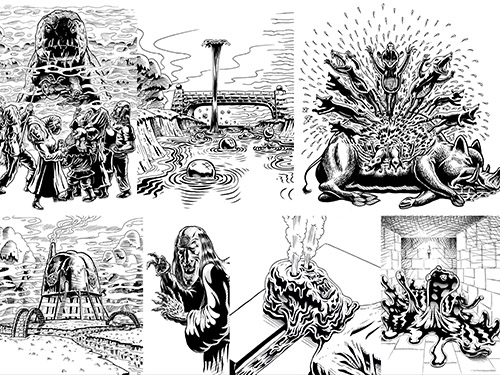 Full-sized handouts
Author's notes
All the statblocks from the adventure for easy reference
A complete patron write-up with spell sheets
All the tables from the adventure to use as judge's screen inserts
The usual horde of Purple Sorcerer paper miniatures
All the maps from the adventure, both keyed and unkeyed
Every image from the adventure, many in both color and BW
Adventure in the deadly fen awaits!
Buy Now in PDF or Print/PDF Combo!
Free Printable Appendix
Check out the Print Version: