Do You Dare Enter the Sunken City?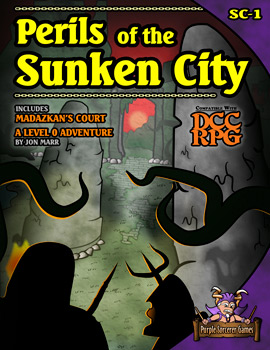 Most find death in the crumbling ruins that stretch beyond sight into the mists south of the Great City; once rich districts now claimed by swamp and dark denizens. But for the desperate folk of the city, the ruins offer treasures the Great City denies them: fortune, glory, and a fighting chance!

The massive crumbling ruins of the swamp-ravaged Sunken City await! The way is filled with peril, but those who survive will be ready to face even more dangerous fare!

Download the adventure that started it all: in the top 2% all-time best sellers at RPGNow!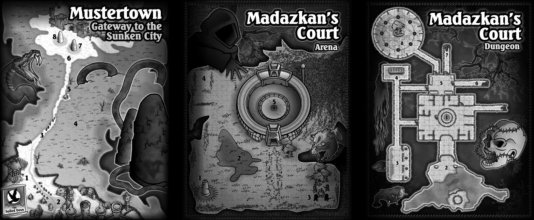 Features of Perils of the Sunken City
Now includes updated color and mobile versions along with the classic black and white version!
Compatible with the Dungeon Crawl Classics RPG from Goodman Games (easily convertible to your favorite 'old school' system!)
Effortlessly integrate 0-level mobs into your world! Or challenge smaller 1st level bands.
Travel into danger using demon-powered sending stones, battling dark powers in the forgotten arena of the foul necromancer Madazkan!
Buy Now!
View Preview
Free Battlemaps
Free Paper Miniatures
Running Perils in a tight time window