PDF versions of Purple Sorcerer adventures are free to active military personal and who are running things for fellow soldiers, as well as any vet in need. Just send me an email and I'll get you set up with a selection of our titles!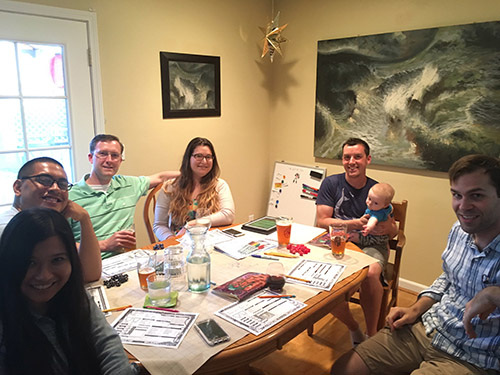 Jason Dalziel rocking his first DCC funnel with other military families
stationed in Monterey California. Thanks Jason!
It is the very least we can do for those who are often far from home protecting our freedoms. We've been thilled to provide adventures for soldiers stationed all around the world, from California, to Ontario, Alaska, and Japan!
Veteran Christopher Bishop writes:
I just wanted to say thank you... Nebin Pendlebrooks Perilous Pantry was great fun. More importantly thank you for your support of military folks. I found your military offer to active duty and it truly touched me to the point of tears almost. As a 100% Disabled Veteran who spent many months in the field, rolling bones was sometimes the only cheap distraction we could have from otherwise mundane and sometimes down right depressing conditions. Your kind offer to the troops means more then you know. As such I posted a link to it on the Hobby Shop Dungeon facebook page and fairly quickly some hobby notables such as Mr. Ernie Gygax caught on and forwarded it to their larger audience as well. I hope this drives some much deserved business your way as well as a few troops like myself who may be in need of the fun you offer. Thanks again and god bless.
No, thank you Christopher, and all our brothers and sisters in the armed forces. Again, it is the very least we can do.
If any visitors have DCC-loving friends in the military, be sure to spread the word. :)