Every Sunken City Adventure In One Volume... Plus More!
Most find death in the crumbling ruins that stretch beyond sight into the mists south of the Great City; once rich districts now claimed by swamp and dark denizens. But for the desperate folk of the city, the ruins offer treasures the Great City denies them: fortune, glory, and a fighting chance!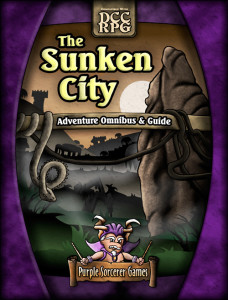 Start your Dungeon Crawl Classics campaign with four beginning adventures set the heart of trackless, ruin-filled swamp. The Sunken City Adventure Omnibus contains:
All four best-selling Sunken City Adventures (Perils of the Sunken City, The Ooze Pits of Jonas Gralk, A Gathering of the Marked, and Lair of the Mist Men) combined and refined into an enhanced full-color volume.
Both a 96-page desktop/print version and a 200-page mobile version built from scratch for viewing on your tablet!
A massive 84-page master appendix containing extra content, pre-gen characters, player maps, 1-inch scale battle maps, and over 150 paper miniatures.
A patron write-up of Malloc, the devious master of secrets.
At long last… Opossumen player characters.
Adventure seeds, new monsters, 24 new magic items, judging tips, and more!
Buy Now in PDF or PDF/Print Combo!
Which Print Version is Best for You?