The Sunken City Starting Adventures Come to a Chilling Conclusion!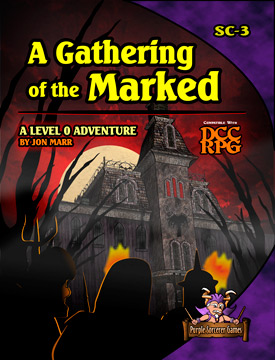 "A Gathering of the Marked looks fabulous! I love the appendices and handouts!" – Stephen Newton, Thick Skull Adventures
Rich and poor, bond and free: every few months an unsuspecting few awake to find a ragged circle of midnight black scrawled on their foreheads; a dark summoning whispering on the edge of their consciousness. All who live in the shadow of the Great City know to ignore the call of the mark is to invite madness and a lingering and horrific death, so each will find his way to the sending stones, and the unspeakable peril that waits beyond.
Designed for 0-level adventurers, A Gathering of the Marked challenges a band of strangers to endure the mad games of a power who's motivations are as mysterious as its identity. Can the summoned survive to wrest control of their lives once more? Will they turn on those they struggle with, or band together to defeat a common enemy? Will they finally come face to face with the twisted power that has called them, and uncover its dark secrets? All will be revealed in A Gathering of the Marked!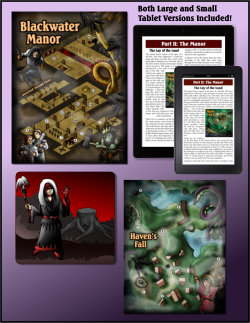 Features of A Gathering of the Mark
Horrifying fun compatible with the Dungeon Crawl Classics RPG from Goodman Games (easily convertible to your favorite 'old school' system… and by easy, we mean easy easy!)
Explore the cursed village of Haven's Fall, battling shambling horrors, freakishly nimble puppets, cow-devouring tentacles and more!
Uncover the secrets of the Cult of Athax: foul minions of a Shadow Wizard with dark designs on not only the world, but you in particular!
Packed with adventuring possibilities: twice the length of Perils of the Sunken City, with full color artwork throughout all 24 adventure pages + 24 additional appendix pages.
Nearly 100 paper miniatures included for those who want to see the action unfold. (13 Free battlemaps available on the Purple Sorcerer Games website.)
Virtually every image is included in easily printable format in the appendix making creating handouts a breeze!
Comes with two streamlined tablet versions for both large and small tablets and mobile devices.
Each Sunken City Starting Adventure stands alone: you don't need either SC-1: Perils of the Sunken City, or SC-2: The Ooze Pits of Jonas Gralk to enjoy SC-3: A Gathering of the Marked. (Perils of the Sunken City does provide useful background on the Sending Stones that are mentioned in this adventure, and The Ooze Pits of Jonas Gralk just plain rocks, so we'd suggest getting them anyway!)
Buy Now!
Free Battlemaps
Paper miniatures from the adventure on a nearly hidden battle map!